Destination Wedding Savings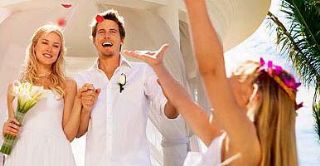 Sharing your special day with loved ones is the perfect way to begin your lives together. And, with a Delta Vacations destination wedding package to Mexico, the Caribbean, Hawaii or Las Vegas, your friends and family can save up to $225 per booking.
Friends and Family Savings
When your guests book a package to attend your wedding, they will save per booking:
$25 on vacations of $699 - $999
$50 on vacations of $1,000 -
...

Celebrating 50 years in the business, Delta Vacations is one of the largest providers in the United States of vacation packages, and is a wholly owned subsidiary of Delta Air Lines. Delta Vacations is the convenient, one-stop shop for travel agents and customers to book memorable getaways that feature Delta's notable flight service, combined with stays at 5,000+ hotels and resorts. Our dedication to providing above-and-beyond experiences has earned Delta Vacations numerous industry awards,
...
Multiple destinations available