70,000 Reasons to Plan Your Hawaii Vacation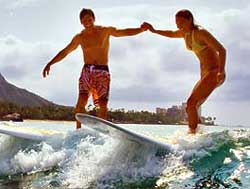 70,000 Reasons to Plan Your Hawaii Vacation
Once-in-a-lifetime experiences await you, from lei greetings and perfumed air to the enchanting sounds of evening luaus.
Go Beyond the Flight with Delta Vacations, and choose from two great deals — our highest mileage offer ever of up to 70,000 bonus miles or savings of up to $350 off per booking.
Use promo code SMBONUS and get*:
70,000 MILES on flight and hotel
...

Celebrating 50 years in the business, Delta Vacations is one of the largest providers in the United States of vacation packages, and is a wholly owned subsidiary of Delta Air Lines. Delta Vacations is the convenient, one-stop shop for travel agents and customers to book memorable getaways that feature Delta's notable flight service, combined with stays at 5,000+ hotels and resorts. Our dedication to providing above-and-beyond experiences has earned Delta Vacations numerous industry awards,
...
Includes flight and hotel