Pacific-Tasman Sojourn
on Insignia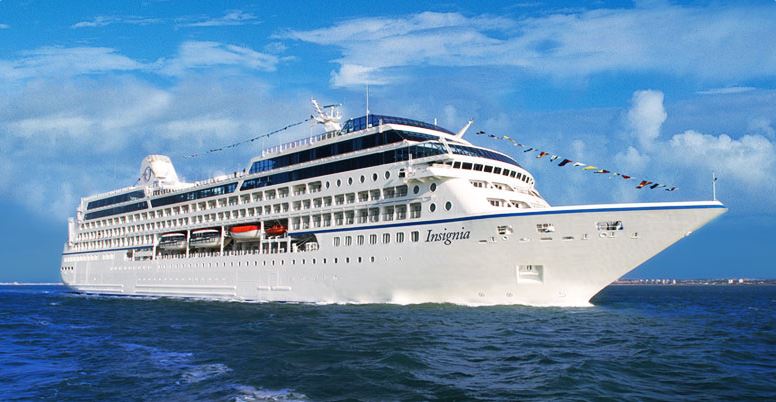 BLUE LAGOONS TO OCHRE LANDS
Flicker among the jewel-like islands of Hawaii and the South Pacific, where spellbinding traditions have gone unchanged for centuries, and fall in love with the stunning natural beauty and cosmopolitan panache of Australia and New Zealand.

Formed in 2002 by luxury cruise industry veterans Frank Del Rio, Joe Watters and Bob Binder, Oceania Cruises is the world's largest upper premium cruise line. The Finest Cuisine at Sea
™
, Destination Specialists and Intimate & Luxurious Ships are the pillars that define Oceania Cruises' five-star product, positioning the line as the cruise company of choice for travelers seeking a truly refined and casually elegant travel experience.
Featuring a fleet of warm and luxurious ship
/p>
...
Cat. C2, OLife: Amenities, airfare from select gateways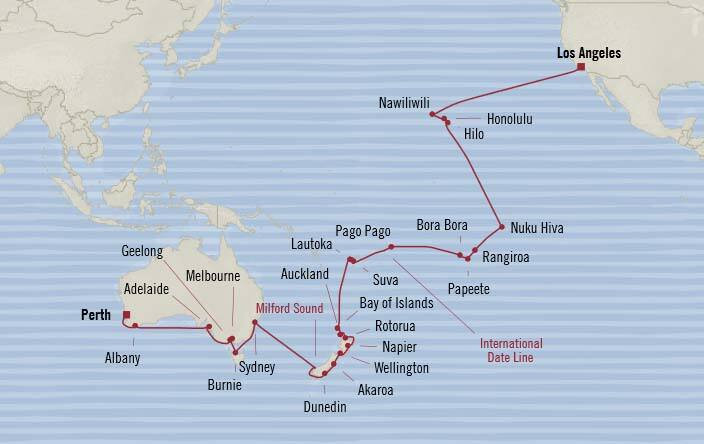 | Day | Port | Arrive | Depart |
| --- | --- | --- | --- |
| 1 | Los Angeles | | 6:00 PM |
| 2 | Cruising The Pacific Ocean | | |
| 3 | Cruising The Pacific Ocean | | |
| 4 | Cruising The Pacific Ocean | | |
| 5 | Cruising The Pacific Ocean | | |
| 6 | Cruising The Pacific Ocean | | |
| 7 | Nawiliwili | 9:00 AM | 7:00 PM |
| 8 | Honolulu | 8:00 AM | 7:00 PM |
| 9 | Hilo | 8:00 AM | 5:00 PM |
| 10 | Cruising The Pacific Ocean | | |
| 11 | Cruising The Pacific Ocean | | |
| 12 | Cruising The Pacific Ocean | | |
| 13 | Cruising The Pacific Ocean | | |
| 14 | Nuku Hiva | 10:00 AM | 6:00 PM |
| 15 | Cruising The South Pacific | | |
| 16 | Rangiroa | 8:00 AM | 5:00 PM |
| 17 | Papeete (Tahiti) | 8:00 AM | 8:00 PM |
| 18 | Bora Bora | 8:00 AM | |
| 19 | Bora Bora | | 4:00 PM |
| 20 | Cruising The South Pacific | | |
| 21 | Cruising The South Pacific | | |
| 22 | Pago Pago | 8:00 AM | 5:00 PM |
| 23 | Cross The International Date Line | | |
| 24 | Cruising The South Pacific | | |
| 25 | Suva | 10:00 AM | 7:00 PM |
| 26 | Lautoka | 8:00 AM | 5:00 PM |
| 27 | Cruising The South Pacific | | |
| 28 | Cruising The South Pacific | | |
| 29 | Bay Of Islands | 8:00 AM | 6:00 PM |
| 30 | Auckland | 8:00 AM | 8:00 PM |
| 31 | Rotorua (Tauranga) | 7:00 AM | 4:00 PM |
| 32 | Napier | 11:00 AM | 7:00 PM |
| 33 | Wellington | 10:00 AM | 7:00 PM |
| 34 | Akaroa | 8:00 AM | 6:00 PM |
| 35 | Dunedin | 8:00 AM | 5:00 PM |
| 36 | Cruising The Fjords Of Milford Sound | | |
| 37 | Cruising The Tasman Sea | | |
| 38 | Cruising The Tasman Sea | | |
| 39 | Sydney | 8:00 AM | |
| 40 | Sydney | | 6:00 PM |
| 41 | Cruising The Tasman Sea | | |
| 42 | Burnie (Tasmania) | 8:00 AM | 5:00 PM |
| 43 | Melbourne | 8:00 AM | |
| 44 | Melbourne | | 2:00 AM |
| 44 | Geelong | 8:00 AM | 7:00 PM |
| 45 | Cruising The Great Australian Bight | | |
| 46 | Adelaide | 7:00 AM | 5:00 PM |
| 47 | Cruising The Great Australian Bight | | |
| 48 | Cruising The Great Australian Bight | | |
| 49 | Albany | 7:00 AM | 4:00 PM |
| 50 | Perth (Fremantle) | 1:00 PM | |
| 51 | Perth (Fremantle) | 8:00 AM | |