The Hawaiian Islands - Save up to $275 with rental car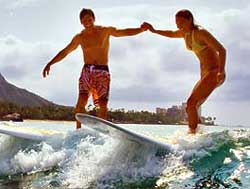 The Hawaiian Islands - Save up to $275 with rental car
Experience the natural beauty of the Aloha State, and create cherished memories when you #LetHawaiiHappen.
Delight in beaches of every color, dramatic sunsets and balmy moonlit nights on a vacation to Kauai, Oahu, Maui and the island of Hawaii.
For a limited time, save up to $250 per booking on a flight and hotel
...

Delta Vacations, the official vacation provider of Delta Air Lines, offers convenient, one-stop shopping for packages that bundle flights aboard Delta and its strategic partners — Air France, KLM, Alitalia, Aeromexico and Virgin Atlantic — with stays at more than 4,000 hotels and resorts in more than 300 of the world's top leisure destinations. We also offer car rentals and hundreds of exciting activities, tours and excursions that can be added to vacation packages.

Benef
...
Multiple departures available