Grand Pacific Paradise
on Seven Seas Mariner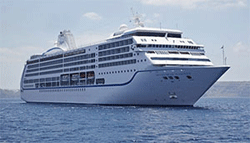 The world's first all-suite, all-balcony ship,
Seven Seas Mariner®
features four gourmet restaurants with open seating. Hallmarks include generous amenities and a welcome spaciousness. Catering to only 700 guests, her staff-to-guest ratio of 1 to 1.6 ensures the absolute highest level of personal service.
Under regulations set forth by the U.S. Department of the Treasury, Office of Foreign Assets Control (OFAC), Regent Seven Seas Cruises may offer carrier services by vessel to
...
About Regent Seven Seas Cruises

Regent Seven Seas Cruises is the world's most inclusive luxury experience with a four-ship fleet that visits more than 450 destinations around the world. Regent Seven Seas Cruises is currently undergoing a $125 million fleet-wide refurbishment that will elevate the elegance of its fleet to the standard set by the all-balcony, all-suite
Seven Seas Explorer
, which entered service on July 20, 2016. Recognized since as the most luxurious ship ever built,
Seven Seas Explorer
joins all-b
...

| Day | Port | Arrive | Depart |
| --- | --- | --- | --- |
| 1 | Miami | | 6:00 PM |
| 2 | Havana | 8:00 AM | 6:00 PM |
| 3 | Cruising The Caribbean Sea | | |
| 4 | Cruising The Caribbean Sea | | |
| 5 | Cartagena | 7:00 AM | 1:00 PM |
| 6 | Panama Canal Daylight Transit | | |
| 7 | At Sea | | |
| 8 | Puntarenas | 8:00 AM | 5:00 PM |
| 9 | Corinto | 10:00 AM | 6:00 PM |
| 10 | Puerto Quetzal | 9:00 AM | 7:00 PM |
| 11 | Cruising The Pacific Ocean | | |
| 12 | Acapulco | 8:00 AM | 5:00 PM |
| 13 | Cruising The Pacific Ocean | | |
| 14 | Cabo San Lucas | 8:00 AM | 4:00 PM |
| 15 | Cruising The Pacific Ocean | | |
| 16 | San Diego | 10:00 AM | 8:00 PM |
| 17 | Cruising The Pacific Ocean | | |
| 18 | Cruising The Pacific Ocean | | |
| 19 | Cruising The Pacific Ocean | | |
| 20 | Cruising The Pacific Ocean | | |
| 21 | Cruising The Pacific Ocean | | |
| 22 | Kahului | 8:00 AM | 7:00 PM |
| 23 | Honolulu | 6:00 AM | 6:00 PM |
| 24 | Hilo | 8:00 AM | 4:00 PM |
| 25 | Cruising The Pacific Ocean | | |
| 26 | Cruising The Pacific Ocean | | |
| 27 | Cruising The Pacific Ocean | | |
| 28 | Cruising The Pacific Ocean | | |
| 29 | Nuku Hiva | 9:00 AM | 6:00 PM |
| 30 | Cruising The South Pacific | | |
| 31 | Fakarava | 8:00 AM | 3:00 PM |
| 32 | Bora Bora | 3:00 PM | |
| 33 | Bora Bora | | 7:00 PM |
| 34 | Raiatea | 7:00 AM | 6:00 PM |
| 35 | Moorea | 8:00 AM | 7:00 PM |
| 36 | Papeete (Tahiti) | 8:00 AM | |
| 37 | Papeete (Tahiti) | | 8:00 PM |
| 38 | Raiatea | 8:00 AM | 11:00 PM |
| 39 | Bora Bora | 8:00 AM | 5:00 PM |
| 40 | Cruising The South Pacific | | |
| 41 | Cruising The South Pacific | | |
| 42 | Pago Pago | 8:00 AM | 6:00 PM |
| 43 | Cross The International Date Line | | |
| 44 | Apia | 8:00 AM | 5:00 PM |
| 45 | Cruising The South Pacific | | |
| 46 | Suva | 11:00 AM | 9:00 PM |
| 47 | Lautoka | 8:00 AM | 9:00 PM |
| 48 | Cruising The South Pacific | | |
| 49 | Cruising The South Pacific | | |
| 50 | Norfolk Island | 8:00 AM | 3:00 PM |
| 51 | Cruising The South Pacific | | |
| 52 | Auckland | 7:00 AM | 8:00 PM |
| 53 | Rotorua (Tauranga) | 9:00 AM | 7:45 PM |
| 54 | Gisborne | 9:30 AM | 3:00 PM |
| 55 | Wellington | 10:00 AM | 6:00 PM |
| 56 | Christchurch (Lyttelton) | 8:00 AM | 6:00 PM |
| 57 | Dunedin | 8:00 AM | 6:00 PM |
| 58 | Cruising Duskey Fjord | | |
| 58 | Cruising The Fjords Of Milford Sound | | |
| 58 | Cruising Doubtful Fjord | | |
| 59 | Cruising The Tasman Sea | | |
| 60 | Cruising The Tasman Sea | | |
| 61 | Burnie | 8:00 AM | 5:00 PM |
| 62 | Melbourne | 10:00 AM | |
| 63 | Melbourne | | 11:00 PM |
| 64 | Geelong | 8:00 AM | 6:00 PM |
| 65 | Cruising The Bass Strait | | |
| 66 | Eden | 7:00 AM | 4:00 PM |
| 67 | Sydney | 7:00 AM | |