Thailand Essentials: Bangkok, Chiang Mai, Chiang Rai, and Phuket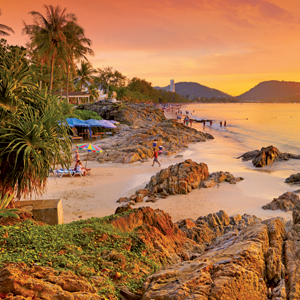 Thailand Essentials
Discover rich cultural heritage, bustling cities, verdant scenery, and pristine beaches. Get under the skin of the capital, head to a cultural hub, ascend to a famous temple, and cap the journey off with turquoise waters amidst stunning limestone karsts.
Includes:
Private Arrival & Departure Transfers Per City
2 Nights Bangkok
Private Bangkok Highlights: City
Temple
and Klong Tour
2 Nights Chiang
...
About Avanti Destinations

The passion to serve and inspire savvy travelers with innovative and personalized vacations has been the driving force for 31 years at Avanti Destinations. We have the passion for independent travel and want to share it with you! We provide you with authentic travel experiences backed by our expert knowledge. You go where you want. When you want. With the flexibility to savor special moments along the way. Your vacation is uniquely yours. That's Avanti!
Our record of success at Avanti
...